Crawford Communications is a consulting firm that provides marketing public relations services to organizations, especially those in the food and beverage, professional services, health care and real estate industries. When needed, we form and manage teams of experienced communications professionals to achieve the objectives our clients have emphasized as important to their success.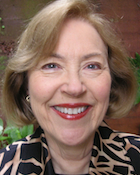 Founder Profile
Carol Crawford is the founder and principal of Crawford Communications. Since 1986, she has managed both long-term programs and special projects for prominent organizations in the San Francisco Bay Area and other major markets.

Earlier Carol held management positions as:
Director, Public Relations -- US Sprint
Manager, Marketing Public Relations -- GTE Sprint
Director, Corporate Communications - S&O Consultants
Vice President, Public Relations -- Grey Advertising
Account Supervisor -- Ketchum Public Relations
Carol has taught public relations at the University of California Berkeley Extension Program and Golden Gate University, where she earned an MBA in marketing and developed the introductory course in the graduate public relations degree program. She continues to make presentations about public relations to business and professional organizations, and conducts media training seminars for individuals and groups.
Carol is an accredited member of the Public Relations Society of America and past-president of its San Francisco chapter. She serves on the advisory board of Hospice by the Bay and the Volunteer Disaster Communication Task Force of the American Red Cross in San Francisco. Carol has served on the board of the San Francisco Professional Food Society as community services chair, secretary and parliamentarian. She is also a member of the San Francisco Public Relations Roundtable and San Francisco Publicity Club.